Meetings: Past and Future
Meetings are held the second Friday of every month starting at 7 PM. 
Free and open to the public!


Wildwood School, 11811 Olympic Blvd., Los Angeles
Free parking in garage, SE corner of Mississippi & Westgate
Watch this space for exciting news about upcoming speakers!
---
FRIDAY, JAN. 12, 2018
Our talk Friday, Jan 12, 2018 will be on "Cassini's Grand Finale." Cassini went out with a great 'splash' in September, marking the end of a landmark mission — or was it the end? The discoveries are still making headlines, and more are surely to come.
Our speaker will be JPL's Dr. Bonnie Buratti. You may have seen her interviewed recently, or even have one of her wonderful books. This will be another great talk in our series, so please join us at 7 PM this Friday.
Please CLICK HERE to take a look at this month's bulletin (you can also browse previous ones). It has more information about the program, plus very interesting news about Saturn's rings, the great gravitational wave "event of the year," the most massive stars — and also the upcoming total lunar eclipse.
Dr. Bonnie Buratti is a Principal Scientist and technical manager at NASA's Jet Propulsion Laboratory in Pasadena, California, with expertise on the structure and evolution of icy moons and other small bodies. She holds degrees from MIT and Cornell in Astronomy. She is currently serving on the Science Teams for both the Cassini and New Horizons missions, and she is also the NASA Project Scientist for the Rosetta Mission to a comet. The author or coauthor of over 200 scientific papers, Dr. Buratti was awarded the NASA Exceptional Achievement Medal, and the International Astronomical Union recognized her work by naming asteroid 90502 Buratti after her. She is a Fellow of the American Geophysical Union. Her newest book, Worlds Fantastic, Worlds Familiar: A guided tour of the Solar System, was published in 2017.
Thanks to Mona for arranging this month's program!
---
Our speaker for Friday, December 8 was Dr. Jeffrey Rich, a research astronomer at the Carnegie Observatories.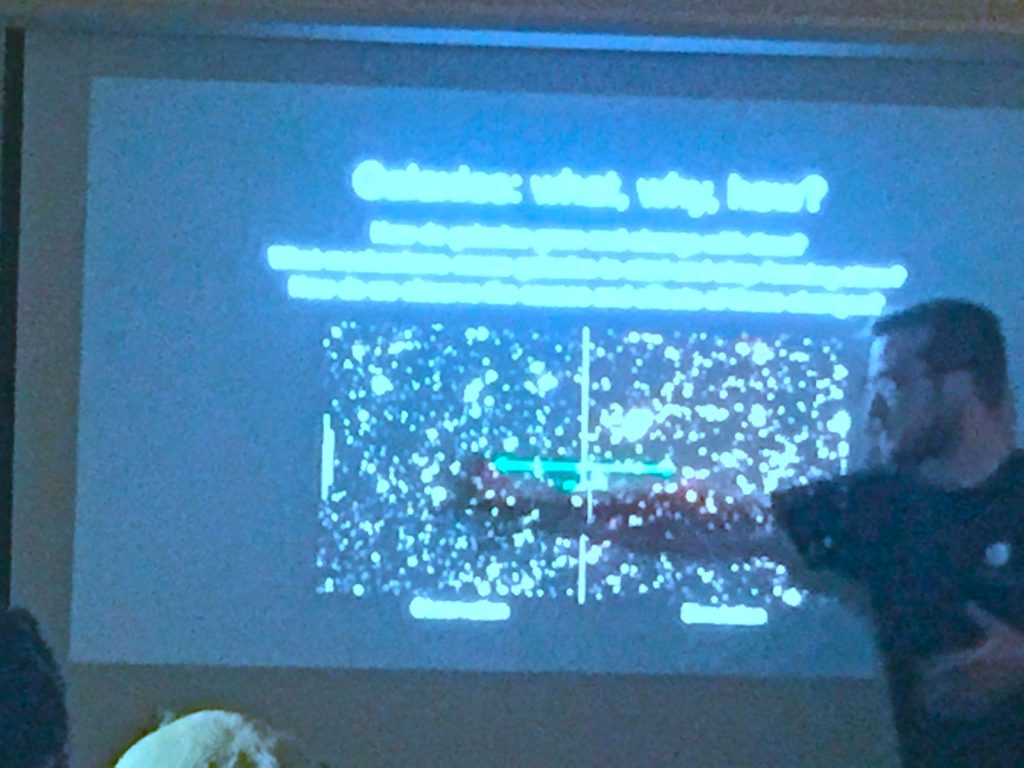 Dr. Rich, who was a postdoctoral fellow at Caltech before arriving at Carnegie, talked about his work on ULGs — ultraluminous galaxies. These exceptionally bright infrared sources, powered by bursts of star formation as well as by active black holes, may represent cosmic collisions on a grand scale, and might reveal to us how quasars and elliptical galaxies form.
Cutting-edge astronomy, deep in the Realm of the Nebulae.
More on Dr. Rich: https://sites.google.com/site/astrojrich/
---
November 10, 2017 meeting:
Our own fantastic speaker Jed Laderman speaks on the weighty (or should we say massy?) matter of … dark matter.
October 13, 2017 meeting:
Dr. Terese Hansen of the Carnegie Observatories speaks on the chemical evolution of the Milky Way.
Here's a little more on the Carnegie Observatories and Dr. Hansen:
http://obs.carnegiescience.edu/research/staff.html
September 15, 2017 meeting:
Members share their eclipse-viewing stories and photos — several traveled to the path of totality and will report back!
May 11, 2017 meeting
Tim Thompson, formerly with JPL, will give us an "encore talk" on "A Universe of Galaxies" beyond our home in the Milky Way!
February 10, 2017 meeting:
Mt. Wilson Observatory is the birthplace of modern astronomy, astrophysics and cosmology, and arguably the most significant observatory in the history of astronomy. Our guest speaker, Tim Thompson, has been associated with Mt. Wilson Observatory since 1981. Tim also worked at JPL for many years, specializing in planetary atmospheres and infrared astronomy. Tim will present a fascinating talk on the history and current status of Mt. Wilson Observatory and its unique status in the field of astronomy — come on down!
January 13, 2017 meeting:
"The Analemma" and other neat demonstrations!
Plans for the coming year… DIY astronomy… and a tribute.
December 9, 2017 meeting:
Holiday Party! Please bring any edibles you would like to share. We'll also have some astronomy posters and books to give away.
Talk: "Astronomy and the Nobel Prize" We may also preview "Starmen."
October 14, 2017 meeting:
Updates on a whirlwind of big news stories.
Your guide to upcoming astronomy events!
A busy month for astronomy in L.A.
September 9, 2017 meeting:
Human Space Flight: What's Next?
There has been a lot of talk and speculation about what the next goal for human space flight should be. Some, like Elon Musk say Mars should be the goal. Others have talked about going to an asteroid. Some few hold out for returning to the Moon. Let's look at the options. What are the hurdles to each of these efforts versus the rewards? Be ready to examine the evidence and discuss your favorite proposal.
Speaker: Our very own Doug Saxon, PhD in History from UCLA, Retired LAUSD teacher. Currently teaching at West Los Angeles College. Former Fulbright-Hays fellow and Social Science Research Council Fellow.
August 12, 2017 meeting:
Trina Ray, of JPL, will be speaking on "Cassini at Enceladus."  One of the great discoveries of the Cassini Mission, the icy jets emerging from Enceladus make this small satellite a prime target in the search for life beyond the earth.
July 8, 2017 meeting:
The Invisible Universe, Revealed:
From Glowing Dust to Spinning
Stellar Corpses
Your eyes are powerful: they can distinguish a vast range of
colors, from reds to greens to purples. However, these
"visible" colors are just a tiny fraction of the light in the uni-
verse. To reveal the rest, astronomers build telescopes, like
the Fermi Gamma-ray Telescope in space and the Very Large
Array (VLA) of radio telescopes in New Mexico. These artifi-
cial "eyes" have opened windows to invisible phenomena like
glowing interstellar dust and the spinning corpses of massive
stars. In this talk, you will learn about some of the celestial
objects and violent events that light up the universe in all its
invisible colors, as well as the telescopes used to reveal them.
Speaker: Anna Ho (Caltech)
June 9, 2017 meeting:
This meeting is yours—updates, discussion, astronomy talk, planning, Q and A…it's your call this time around!
May 14, 2017 meeting:
Mt. Wilson, RECON updates, and more!
We'll hear about the past, present and future of Mt. Wilson at this month's meeting, as our club makes plans to be a part of the scene at one of history's greatest astronomical sites.
---
2016
April 2016 meeting changed from the 8th to the 15th.
We'll be back to our usual second Friday time slot for all subsequent months this year.
We'll be hearing from our club members on a variety of topics this Friday, including results from a recently published planetary paper, and updates on RECON!
Hope to see you at 7:30 on the 15th!
February 12, 2016 meeting:
Speaker: Tim Thompson, formerly with JPL
Women in Astronomy and Science
Women have been at the forefront of many an astronomical discovery, though we may not have been informed about them…. In Friday's talk we'll hear about some particularly notable contributions to our understanding of the universe. Also, there will be updates on the brightest supernova ever seen, quantum entanglement, and other astronomical news, as well as our new club endeavors.
January 8, 2016 meeting:
Speaker: Matt Ventimiglia (Griffith Observatory)
Eclipse Science — and Travel!
Our speaker for Friday, Matt Ventimiglia of Griffith Observatory, will tell us about the science of eclipses –historical observations, how often they occur, how we predict them — and he'll talk about the pleasures of eclipse travel.  Matt, who has seen 10 total solar eclipses himself, will highlight some upcoming ones, including the August 2017 eclipse that's starting to generate a lot of excitement here, and he'll give us pointers on observing them safely.  Meeting starts at 7:30 pm!
December 11, 2015

7:30 pm
Telescope viewing, weather permitting, and a talk on winter sky objects!
July 2016 meeting — Tim Thompson, formerly with JPL. Multi-Wavelength Astronomy: Ending the Tyranny of the Eye